Case Study: Recovery of Precious Metals as Platinum
Project Name:
Platinum Recovery Project at a Pharmaceutical Company in Shandong, China
Process:
Sunresin Adsorption Process
Working Principle:
The specialty platinum-palladium adsorption resin is a highly robust macroporous copolymer resin with methylthiol that has strong affinity for bivalent metals. This resin selectively adsorbs precious metals as platinum and palladium by forming stable mercaptide.
The reaction principle involves the coordination of sulfur - that is part of methylthiol with bivalent metals as platinum and palladium. Due to the strong affinity of the resin for palladium and platimum, the resin can tolerate interference from other metal ions such as potassium, sodium, copper, nickel, and iron.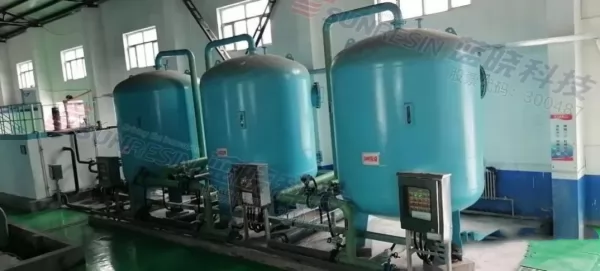 Project Context:
Palladium and platinum are typically used by pharmaceutical industry to perform catalytic hydrogenation. In the specific project the wastewater that is obtained after these reactions has main characteristics as:
-yellow solution with an irritating odor,
-pH of 2.45
-conductivity of 5.1 μs/cm
-main components of the liquid are methanol, isopropanol, water, and a small amount of ethyl acetate.
Due to the very low concentration of platinum in the mother liquor, solvent extraction and ion exchange enrichment technologies have been widely studied. In practical applications, solvent extraction technology is not the optimal solution due to the very low kinetics of extraction of platinum. In addition the majority of solvents are flammable, volatile and toxic, thus making reverse extraction difficult.
On the contrary, ion exchange method allows for the selective adsorption of precious metal ions from solutions containing multiple ions. It has high separation efficiency, simple equipment and operation, and the resin can be regenerated, reused, and has minimal environmental pollution. Therefore, it has become an important method for the separation and enrichment of precious metals.
Project Overview:
The project involves a water treatment capacity of 530 L/h, with an incoming platinum concentration of 0.75 mg/L. Based on the specific project requirements and the performance advantages of Sunresin, a chelating resin was selected to utilize the strong affinity between the thiol functional group and precious metal platinum, achieving the recovery of platinum.
The project successfully reduced the platinum concentration from the incoming 0.35 mg/L to non-detectable levels, ensuring stable effluent quality and creating significant economic value for the company.
Advantages of Resin Adsorption:
-Environmental-friendly and low energy consumption, operating under ambient temperature and pressure conditions.
-Sunresin's chelating resin demonstrates excellent performance in the extraction of precious metals such as cobalt, vanadium, platinum, palladium, and gold. It not only achieves the requirements for the wastewater maximum content of metals but also enables the recovery of high-concentration metal salt solutions.
-The resin has very high adsorption capabilities across different concentrations of mother liquor, with minimal impact from the ionic form of platinum and palladium. It operates stably under various pH conditions, facilitating the recovery of precious metals. In the field of platinum catalyst recovery in the pharmaceutical industry, this resin series offers high processing precision and large adsorption capacity compared to traditional recovery processes.
Leave a Message
Please send any questions you want to know, we will reply to you immediately.