Fruit Juice
Ion Exchange Resin for Fruit Juice Purification
Twenty years ago, Sunresin launched the fruit juice resin for pesticide residue removal, which opened the position of Sunresin in the Chinese juice industry.
Sunresin has a market share of more than 98% in the juice industry. Chinese juice manufacturers like to use Sunresin's technology.
With the continuous improvement of the overall processing technology of the fruit and vegetable juice industry and the different requirements of customers for product indicators, the market is increasingly strict and refined on the quality and performance indicators of concentrated fruit and vegetable juices. In order to obtain high-quality fruit and vegetable juice products, it is necessary to remove or adjust some components in the juice during the processing.
The adsorption & separation technology has undoubtedly has unique advantages in this respect, and becomes an important quality upgrading method in the processing of fruit and vegetable juices.
In the past two decades, as a leader in the field of adsorption and separation of fruit and vegetable juices, with strong technical strength and a large number of on-site application experience, Sunresin's special juice and application technology for fruit and vegetable juice series has reached the international leading level, and the product market possesses. The rate has been maintained over 98% in China for many years.
Typical applications include increasing the color value, light transmittance, stability, reducing turbidity, adjusting the ratio of sugar to acid, etc. of fruit and vegetable juices, and also effectively removing pesticide residues, patulin, harmful ions, etc., to ensure food safety. The product range includes apple juice, orange juice, pear juice, pineapple juice, grape juice, jujube juice, aloe vera juice and pomegranate juice.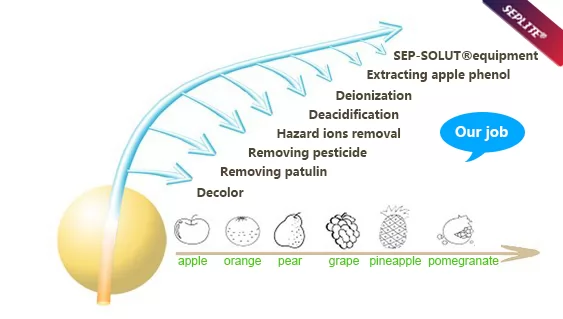 Here are some figures to show our influences on the juice industry

China exports more than 60% of the world's apple juice.
Around 98% of all apple, pear, orange juice exported from China was treated by Sunreisn technique.

Sunresin is now the choice of more than 110 juice factories in China and world-wide.
Latest News
Forbes top 50 CEO
Sunresin is working hard towards the materials development, application innovation and separation technology industrialization. Sunresin is continuously devoting itself to improve the quality of business operations in order to return shareholders, customers and the employees.